Memories can fade but photographs let them live on
Some moments in life deserve to be safeguarded. As memories can fade, a photograph continues to transport us back so we can relive and feel beautiful moments of our lives. I want you to experience this feeling when you look at your printed photographs and stunning album long after technologies have changed.
The 406 Photo Experience
Long after your wedding day, the cake has been eaten, and your flowers have dried, printed photographs will be treasured forever, and this is how you and your loved ones will remember your wedding day.
At 406 Photo, we create an experience allowing couples to feel at ease and well cared for from the first meeting to the final delivery and beyond.
Let's get to know each other!
The journey begins with at least two pre-wedding consultations. We'll meet in our Bozeman studio or by Zoom if you're from out of town. We'll get to know each other better, and you can share your love story and build a plan on how you want to capture your special day. The better we know each other, the more relaxed you'll be in front of the camera!
Engagement session
For many couples, this is their first time in front of a camera since senior portraits. Six to twelve months before the wedding, we'll pick a fun location and look for the perfect spot. This is a great opportunity to get comfortable in front of the camera, and the pictures will be perfect for custom "save the date" cards.
The big event
Throughout your bridal session and wedding day photography, we will tell your beautiful story. We'll keep it fun and relaxed, all the while capturing every moment of your special day.
The reveal
Prepare to laugh, cry, and be blown away as you relive your big day. Once your photographs have been carefully prepared, we will invite you back to the studio and treat you to an elegant big screen reveal set to music. I will also have your album design ready for your approval.
Order and design consultation
After the reveal, you will select the photographs to create stunning art. With our design software, you will see what your images will look like on your walls. Try different frames, mix and match sizes, and get creative. This is where your memories become cherished heirlooms to be enjoyed every day instead of a disc of procrastination sitting in a drawer.
WHY WALL ART MATTERS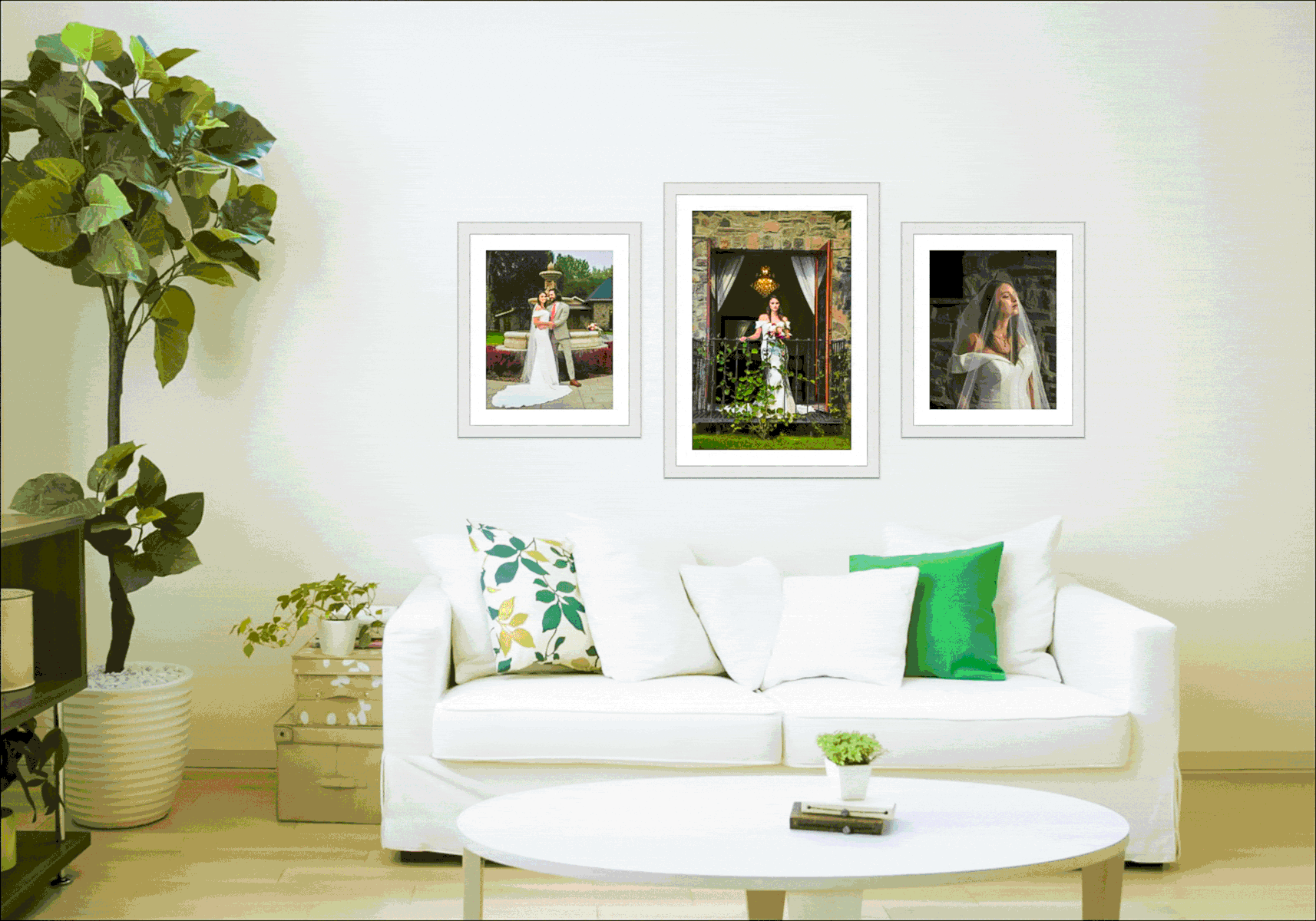 Photos get lost in today's digital world, consigned to social media, hard drives, and in the cloud but rarely seen and enjoyed by our loved ones. We believe that LIFE BELONGS IN PRINT, that our memories belong on the walls of our homes, providing moments of joy in our daily lives. These daily reminders help us create a happy, loving home and a place where we establish roots for the next generation.
Like our photography's quality and creativity, we have curated a set of wall art options that match our clients' high expectations for quality, durability, and uniqueness.
Heirloom Quality Album
Included with Luxury, Elopement and Micro Wedding Collections
An heirloom wedding album will be treasured as much as the wedding day itself - it's your gateway back to that special day and how you felt surrounded by everyone you cherish.
In fifty years time, I want your wedding album to be worn and covered in wine stains from countless nights.
"New" Bridal Registry
Ask about our online gift registry!
For albums, wall art, or even your wedding collection.
Because let's face it, you don't need another toaster!!